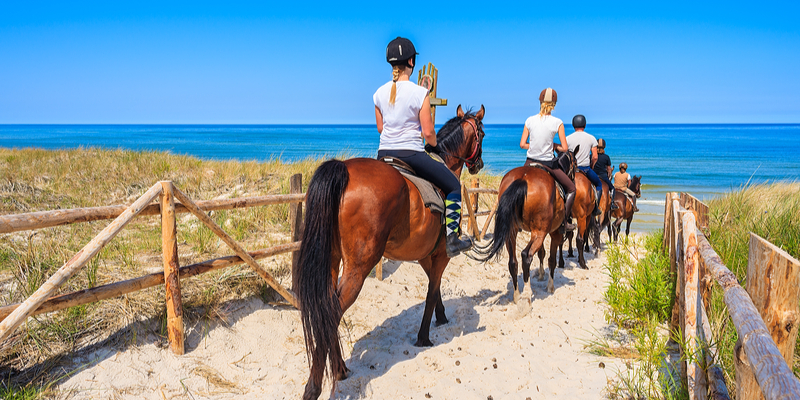 ​5 things that you will be able to try once you buy a house in Sotogrande
10/11/2016
As one of Andalusia's most prestigious developments, Sotogrande gives homeowners in the area plenty of things to do. Here are just five ways to spend your free time in this sun-drenched part of Spain.
5. Horse riding with Endurance Equestrian Experience (E3)
Any enthusiast of horses or horse-riding will adore Endurance Equestrian Experience (E3), which is a riding school that organises day trips trekking on beautiful, well-trained horses.
E3 provides a great way for young children to while away the hours, too. The horses are calm and friendly, so kids of all ages can ride them. Why not take some horses out and have a tour of the sights of Sotogrande with your family?
4. Sunbathing on the unspoiled Torreguadiaro beach
Sotogrande has no shortage of luxurious beaches for lounging in the sun and getting a tan, but Spain's reputation for sun, sea and sand means that many of them can get a little crowded.
Torreguadiaro is different in that regard. The area has many amazing restaurants and bars to enjoy, but the beach is considerably emptier than those of the likes of Marbella. It all helps to make Torreguadiaro the perfect spot for those quieter days and nights.
3. Playing a bit of polo
If you don't want to go trekking with horses, why not play a game of polo with them?
Sotogrande has impressive polo facilities in the form of Polo Santa Maria, a place where you can either watch professionals play the game or have a go yourself.
2. Seeing Sotogrande by Segway
See the beautiful architecture of the villas and all of the stunning vistas across the Sotogrande landscape on a quick tour of the area. Sotogrande has several rental outlets for forms of transportation, but one of the most prominent specialises in Segway rentals.
Spot Segway gives you a heavy-duty Segway to ride around the Sotogrande area, enabling you to discover all of the sights without wearing your feet out. There really aren't many more enjoyable ways to see Sotogrande in its entirety.
1. Teeing off at popular golf clubs
Sotogrande is any golfer's dream destination, with a choice of five large golf courses and great clubs for meeting fellow golf enthusiasts and playing a few rounds.
The Valderrama Golf Club is one of the most prestigious courses in Sotogrande, having previously hosted the Ryder Cup and the Volvo Masters.
However, it's one thing to discover this highly desirable part of Andalusia as a visitor, and quite another thing to actually buy a house in Sotogrande – and when you wish to do the latter, you can't do better than the assistance that Sotogrande's leading property portal can provide.
Begin your search for highly desirable Sotogrande property on our site right now, to make your dreams of property ownership here a reality.