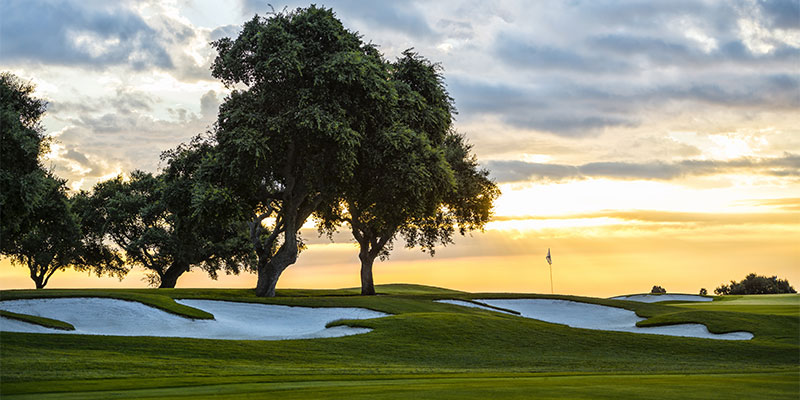 Golfers will never feel amiss in Sotogrande
07/07/2016
There are many aspects of life in Sotogrande that are near-irresistible to those who have never experienced them for themselves, including the laid-back lifestyle, the lush scenery and the countless opportunities for dining, drinking and shopping.
Another part of Sotogrande life that attracts many is the area's love of sport. Polo, sailing and tennis are all enjoyed by locals and tourists alike, but it's golf in particular that Sotogrande is renowned for. If you are one of the many people looking to purchase a property in Sotogrande, here are the golfing facilities and events that you could revel in if you do so.
The proud home of championship golf
The golf course at Real Club Valderrama is situated within Sotogrande and is often regarded to be one of the best golf courses in not only Europe, but also the world. Designed by leading golf course architect Robert Trent Jones, it consists of an 18-hole course and a 9-hole par three course. After its opening in 1974, the club soon found itself hosting the likes of the Volvo Masters, the WGC American Express Championship and the Ryder Cup – the first one to ever be held in Continental Europe.
The course isn't an easy one to tackle, but if you fancy the challenge, you should be aware that Valderrama is a private members' club, with only a limited number of starting times offered for visitors.
For the finest in golf clubs, look no further
Robert Trent Jones designed yet another golf course in Sotogrande, at the Real Sotogrande Golf Club. As well as being the first course that he designed in Europe, he personally chose the course as one of his five favourites from the more than 500 courses that he has designed worldwide.
Also at hand are the Almenara Golf Club, the La Cañada Golf Club and the La Reserva Golf Club – all of which offer spectacular views, world-class courses and prestigious clubs in which you can dine and drink to your heart's content.
Don't allow the prevalence of such great golf clubs in Sotogrande to discourage you if you worry that your golfing skills are not sufficient. After all, there's also the Sotogrande Golf Academy, which is the ideal place to improve your skills and fitness alongside professional golfers – just one more of the many fine sporting opportunities that Sotogrande has to offer.
To discover more about the Sotogrande lifestyle or to begin your search for the ideal property in this highly exclusive and desirable part of the world, please feel free to contact us.