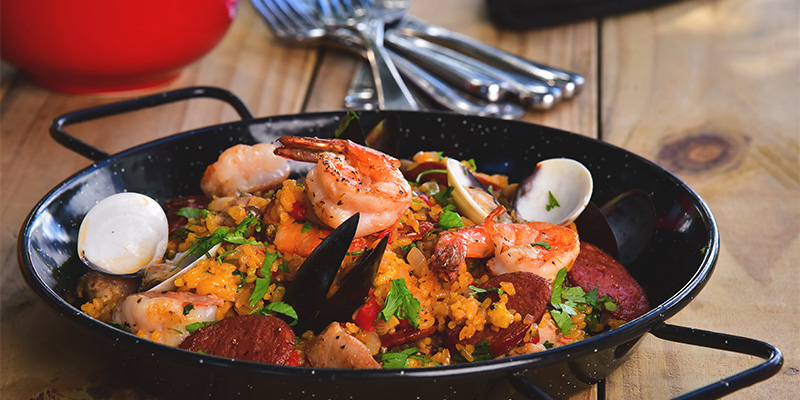 A look at 5 of the best-reviewed Sotogrande restaurants
18/01/2017
A move to the Costa del Sol can be justified on many different grounds, not least the rich gastronomic opportunities that the region affords. We therefore thought we'd round up five of the restaurants we reckon should be most carefully considered by those contemplating villas for sale in Sotogrande, with a little help from TripAdvisor.
PuraTapa
PuraTapa offers more than 80 tapas dishes, encompassing every variety from the traditional to the creative. Diners evidently love the results, with one recent reviewer commenting that the restaurant offers "creative, tasty tapas in a nice atmosphere accompanied with [a] friendly service... [I] wish I could have eaten through the whole menu."
Mariposa
This establishment on the outskirts of Sotogrande may currently be closed until February, but it has already built quite the local reputation since it was first opened in May 2015 by Benjamin and Danielle Nicholson. As one visitor remarked about their visit in November: "Wow what a beautiful place, the pretty courtyard will be a wonderful place to sit in the summer... [the food] was beautifully presented and the tastes/flavours were just yummy!"
Cancha II
If you're looking for a dining establishment that truly exudes the sense of exclusivity, luxury and refinement that draws so many people to live in Sotogrande, it's difficult to beat this stunning restaurant tucked away beside a private polo estate in gorgeous grounds. As one recent reviewer has said: "[It's] not the easiest place to find, but worth the effort! Views across polo fields, so summer evenings are special..."
La Verandah
This Torreguadiaro establishment is just the place to enjoy any of an extensive range of delectable fish, shellfish and meats, all made in the Mediterranean style – and you'll have no shortage of desserts and cheeses from which to choose, either. In the words of a visitor last May: "This is my favourite tapas restaurant around. It is very traditional but it's so cheap and the food is amazing! You MUST visit here."
Ke Bar
Ke Bar is one of Sotogrande's social institutions and is open from breakfast right through to lunch and dinner. An easygoing restaurant-cafe, it's a fine place to simply relax or sample the ever-popular light lunches, refreshing salads and traditional Spanish seafood. As one reviewer has said, "you [can] just drift off into relaxation, not wanting to move."
Are you ready to discover the full range of fabulous dining establishments that are accessible from a Sotogrande property? When you're interested in the best current villas for sale in Sotogrande, there's no better place to look than our own online property portal here at Property Sotogrande.