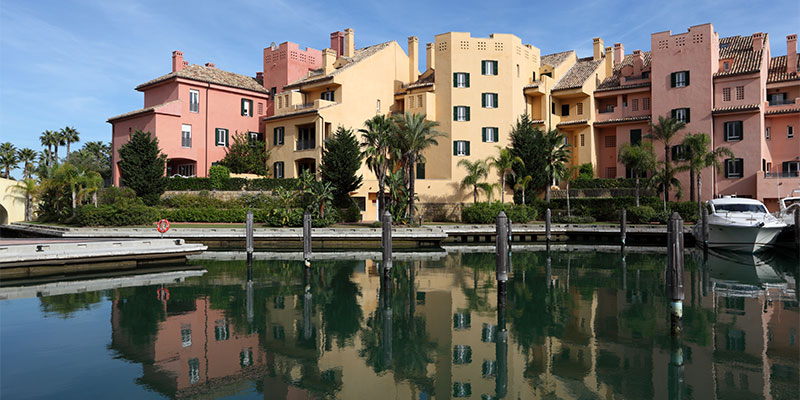 The more relaxing aspects of life in Sotogrande
09/06/2016
It's one thing to carefully consider the broad range of property for sale in Sotogrande, but quite another matter to also contemplate the leisurely lifestyle to which this part of Andalucia is perfectly suited.
To indulge in a non-stop lifestyle and buzzing nightlife scene, we recommend a quick trip down the road to Marbella, where nightlife often go on until dawn! But for now, we'll focus on the more laid-back aspects of life in the region, specifically in Sotogrande.
Staying closer to home?
Many of the properties featured on our portal already come equipped with sky blue pools, areas in which you can lounge the day away in the sun and – if you are looking to particularly splash out on your property – a tennis court. You'll always be just seconds away from a relaxing day spent swimming and drying off in the sun, or from a quick game of tennis with your family.
If you're looking to explore the community, you will be pleased to learn that most of our advertised properties are conveniently situated close to beaches, the marina and the dozens of shops, bars and restaurants that Sotogrande has to offer.
Venturing out?
On the topic of shops and places to eat and drink, you'll never tire of the choices available to you in Sotogrande – even long-time residents are always finding new and exciting things to indulge in.
We know many a soul who has spent their typical day off strolling along the marina, until they find somewhere to sit and watch the world go by with an ice-cold beer, or the perfect establishment in which to sample the local delicacies. Although seafood is often the main gastronomic focus, you will be pleased to hear that the locality offers the broadest range of sophisticated cuisines.
Sotogrande also plays host to several of the most scenic, lavish and relaxing dining and drinking venues around; beach bars. The name says it all - you can take all of the time in the world to treat yourself to a meal or a round of drinks, at various points along the picturesque Sotogrande coastline.
However, the above are just a few of the many enticing ways to spend your off-time as a resident of Sotogrande. To discover just how relaxing life in Sotogrande can be, we recommend visiting for yourself or contacting a member of the Property Sotogrande team.